Economic Development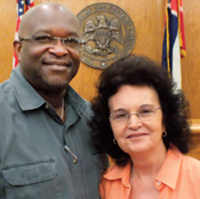 Arthur Evans
Director
Brenda Harper
Associate Director
P.O. Drawer 150
Hazlehurst, MS 39083
601-894-4126
The Copiah County Economic Development District (CCEDD) exists by order and resolution of the Board of Supervisors of Copiah County, Mississippi. The objective of the CCEDD is to promote the civic, economic, and social welfare of the people of Copiah County.
To accomplish this objective, emphasis is placed on providing good jobs for county residents. From start-up to the largest expansion, local and state authorities work together to provide opportunities to new and expanding industry.
The Copiah County Industrial Park at Gallman, Mississippi, offers:
• Land: 465 acres, with 300 plus available acres
• Infrastructure: Electricity, gas, water and sewer (in place)
• Transportation: Adjacent to Interstate 55 and U.S. Highway 51 (only 30 miles from Interstate 20); Canadian National/Illinois Central (on site); six miles from county airport, 35 miles from Jackson International Airport and 140 miles from New Orleans International Airport; 50 miles from Port of Natchez on Mississippi River and 140 miles from Gulfport, Mississippi's deep water port on Gulf of Mexico.
In addition to property, attractive incentives, tax advantages and financing programs, Copiah County's workforce offers access to both skilled and trainable workers. Copiah-Lincoln Community College, working in conjunction with the State of Mississippi, offers programs and services to recruit and prepare a workforce customized to an industry's specific needs.
With the county only 30 minutes from the state capital of Jackson, Mississippi, residents enjoy the benefit of a rural community and the cultural diversity of a metropolitan area.